Why Stopain® Clinical?
Stopain® Clinical and Stopain® Clinical Migraine & Headache are not available for purchase online or at traditional retail outlets. These clinical strength topical pain relief products are available exclusively to healthcare professionals to use and sell in their clinics. To purchase our products for your personal use, locate your nearest healthcare professional. If you are a healthcare professional interested in using Stopain® Clinical products in your practice and selling them to your clients and patients, contact your favorite equipment supplier.
Enhanced Penetration
Innovative formula with 10% menthol and penetration enhancers for fast absorption and immediate pain relief
Migraine & Headache
SEPARATE FORMULA! The ONLY topical gel available for effective, drug-free relief from migraines and headaches
Advanced Technology
Polymer technology for smooth, consistent application, making Stopain® Clinical ideal for use before, during & after treatment
Our Expert Panel of Educators
Learn from our panel of pain relief experts about how Stopain® Clinical products are best applied in the fields of Chiropractic, Physical Therapy, Massage Therapy and Athletic Training. We've partnered with many of the most renowned and respected clinicians to develop a complete library of compelling and insightful clinical education and training resources.
Meet the Experts "Points of Relief" Blog
Supporting Hands-On Healthcare Professionals
Stopain® Clinical is proud of our partnerships and sponsorships with many organizations whose mission it is to support, educate and advance hands-on healthcare professions.
Complete Turnkey Practice-Building Solutions
Promoting the benefits of hands-on healthcare in your community.
Stopain® Clinical is so much more than a product! The Troy Healthcare team provides a comprehensive solution to help clinics provide topical pain relief in their clinics and promote the amazing benefits of hands-on healthcare in their communities. Here are links to some helpful tools:
Stopain® Clinical 'Where to Buy' Clinic Locator
Helping Patients Find a Clinic to purchase Stopain Clinical and generating office visits and potential new patients
Community & In-Clinic Marketing Tools
Sampling, Displays, Signage, Social Media Content, and More!

'Points of Relief' Newsletter
Featuring pertinent, informative articles from the leaders in Chiropractic, Rehab, and Massage Therapy
Professional Portal Info & Sign-Up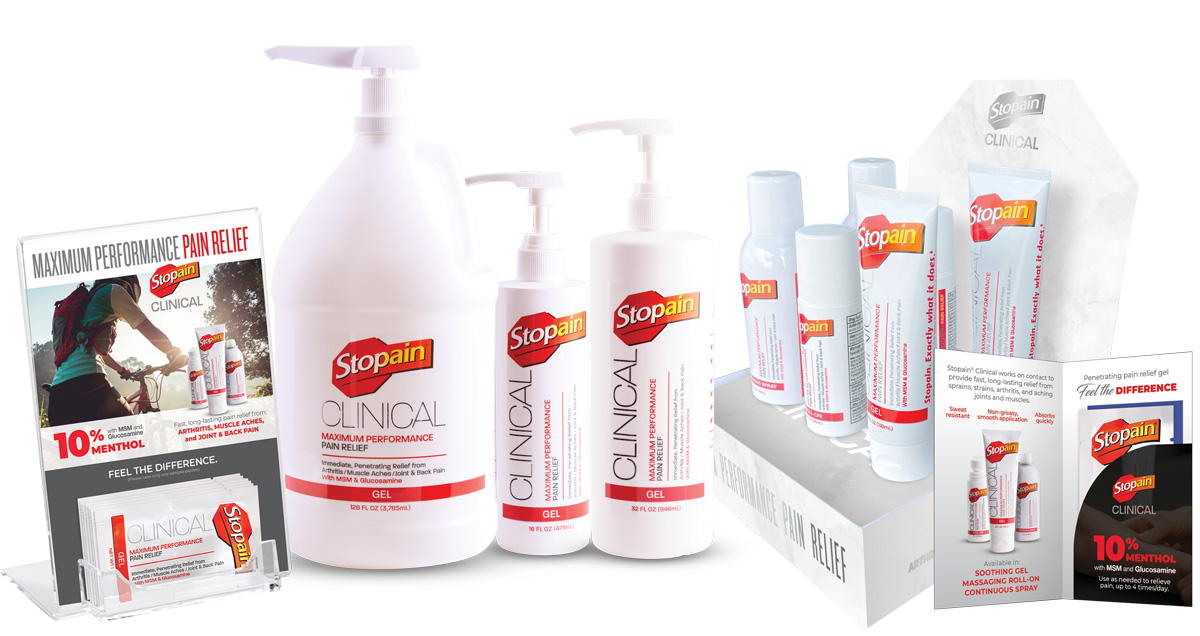 What Your Colleagues Are Saying
Here's what some of your fellow Healthcare Professionals are saying about Stopain® Clinical. Ready to try Stopain® Clinical yourself? Order from your preferred supplier. Find a Distributor here.
We have been recommending Stopain® Clinical to our patients for only a few months and the results have been phenomenal!! We can't keep enough stock on hand due to the high demand.


- Bahram Goshtasbi, DC | Back To Care Chiropractic
This (Stopain® Clinical) is good stuff. All my patients prefer it.


- Dr. Brad Thompson | Thompson Chiropractic
Great Stuff. I quit carrying other brands and only recommend Stopain® Clinical!!!


- Dr. Kurt Titze | Waverly Chiropractic Center
My patients are preferring Stopain® Clinical! I used it for the first time for knee pain and had great results.


- Dr. Paul Bunkers | Alternative Back Care Clinic, PC
With the samples you sent that we give out, we have more patients opting to buy Stopain® Clinical.


- Maripat Biel-Ficek, DC | Ficek Chiropractic PC
Switched to Stopain® Clinical. Patients and myself have had no regrets! Patients much happier with the results!


- Mark A. Gvist, DC | Carlisle Chiropractic Clinic, PC
This is an amazing product. Everyone in my practice loves it. Stopain® Clinical is definitely next level. And people are really loving Stopain® Clinical Migraine & Headache!


- Mary Queen, MT, Manager | Harmony Nails & Spa
"Points of Relief" Blog
Featured articles from our Points of Relief article library. Visit the Blog for great content provided by our Expert Panel of Educators and guest contributors.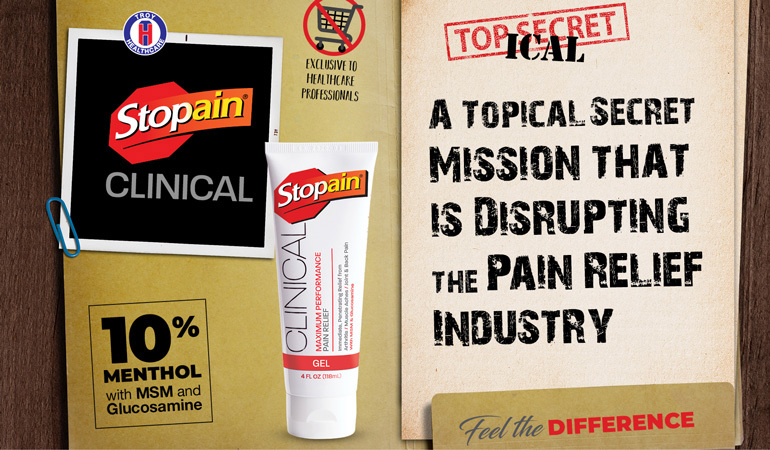 In 2017, the owners of Troy Healthcare set out on a top-secret mission to develop the best topical pain relief solution for hands-on healthcare professionals (and their patients). They determined through the counsel of industry leading bodywork technicians that the 'topical' needed to perform well with the therapist's hands and... VIEW FULL ARTICLE
---
Sign Up for Updates & Exclusive Offers
Stay informed of the latest product news, educational content, informative videos and webinars, and exclusive promotions.