About Us - The Troy Story
Full Circle: From Contract Manufacturer to Industry Innovator
Strong Beginnings
In 1997, Troy Manufacturing entered the industry as a contract manufacturer of topical analgesics, including formula development.
Upon meeting the founders of Biofreeze - Craig Cox, Chris Cox and Perry Isenberg - Troy formed a partnership and became the sole manufacturing arm of Biofreeze in 2000.
At the time Biofreeze was just starting to become the brand that healthcare professionals wanted to use and sell in their clinics. Troy was able to facilitate this rapid growth from 2000-2005.
The owners of Biofreeze had the confidence to aggressively grow their brand because they had a solid manufacturing partner behind them.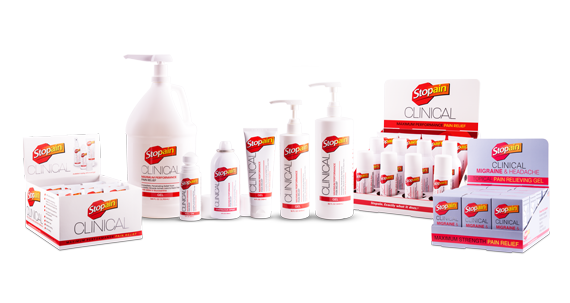 We were able to ramp up sampling and penetrating the market so quickly because we knew we had the right manufacturing partner. Initially, as a company we were hesitant to put all our eggs in one basket, but once we saw the quality and service that Troy Manufacturing provided the Biofreeze brand, it solidified our decision to stick with a single manufacturer.

- Craig Cox | Founder of Biofreeze.
When the original owners sold Biofreeze in 2006, Troy continued as the brand's manufacturer through 2010.
Shifting Focus
Troy brought on an additional contract brand in 2002, Stopain® and later purchased the brand in 2010. At that time, we ended our 10-year partnership with Biofreeze. When purchased, Stopain® was strictly a retail brand and was the first spray analgesic in the marketplace.
Troy managed Stopain® at retail through 2016 and because of the difficulty of competing with large pharmaceutical brands in the retail space, realigned their strategy for the brand.
Having been the lone manufacturer of the number one analgesic for 10 years, we had a comprehensive knowledge of the marketplace. We felt that creating an innovative formula specific for the healthcare professional market was something the analgesic category needed.

- Anthony Cicini | President of Troy Manufacturing/Troy Healthcare
We began development of Stopain® Clinical and launched the product line in 2017, once all testing and stability studies were completed. In addition, we launched another innovative topical in 2018, Stopain® Clinical Migraine & Headache. Anthony states, "Having kept a close relationship with Craig throughout the years, we bounced a lot of ideas, formulation, packaging design and marketing initiatives off of him to get his professional assessment."
Today, Craig Cox remains instrumental in helping us gain brand awareness and market share because he too, has kept a close eye on the healthcare professional market.
"Knowing the capabilities & resources that Troy Healthcare has with manufacturing and innovating products, it makes it easy for me to be a proponent of the brand," Craig said. "When looking at the marketplace today, I see a lot of similarities in the way we went to market to the way Troy Healthcare is addressing the needs of healthcare professionals and their patients. I feel that Stopain® Clinical is the cutting edge product today that Biofreeze was in its early days."
What Sets Us Apart?
What makes us unique is that every aspect of manufacturing is done under one roof at our Pennsylvania facility. From research & development, quality, regulatory, stability & final product testing to packaging & marketing support, we have 100% control from concept to market, ensuring the highest product quality. Stopain® Clinical is available for purchase through both national and regional supply distributors.
"When we made the decision to jump into the healthcare sector, Craig was one of my first calls because I respected everything he's done in the marketplace," Anthony said. "As a company we want to be sure that we surround ourselves with thought leaders and well respected people in the industry — Craig certainly fits that bill."
In 2020, we welcomed a new team member, Paul Timko. Paul brings a wealth of knowledge and relationships in healthcare and he is no stranger to chiropractic or topical pain relief. Paul's career began with Performance Health shortly after our partnership with them ended. Early in his career, Paul worked as the product manager for Biofreeze and directly supported the hands-on healthcare industry with research and education programs as well as the development of practice building solutions.
"Paul's years of experience in this industry was exactly what was needed to take our company and our brand to the next level," Anthony said. "Educating healthcare professionals as well as their patients is something Paul is passionate about. He gives us another level of service to enhance our partnerships. We strive to be an industry leader in the healthcare market. While our focus since 1997 has been in development, manufacturing and packaging, we were seeking the right person to expand distribution, and educate healthcare professionals and their patients."
Paul joins the Stopain® Clinical team as VP of Sales and Marketing. Paul states, "My career has truly come full circle and I could not be happier. I am very fortunate to be working (again) in Chiropractic, Physical Therapy, and Massage with Stopain® Clinical as I believe the opportunity to help practice owners and their patients is even greater today."
Sign Up for Updates & Exclusive Offers
Stay informed of the latest product news, educational content, informative videos and webinars, and exclusive promotions.