Topical Gel for Migraine & Headache
The Only Topical Gel Specially Formulated for Relief from Migraine & Headache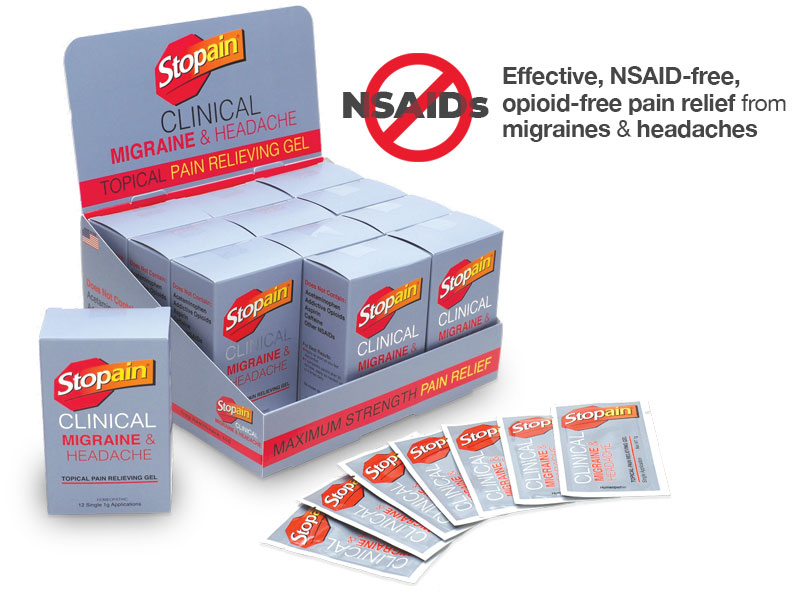 Stopain
®
Clinical Migraine & Headache is a safe, effective topical gel for migraine and headache relief. It does not contain acetaminophen, addictive opioids, aspirin, caffeine or other NSAIDs. There are no known drug interactions and can be used in conjunction with prescription medications.
Stopain® Clinical Migraine & Headache is available exclusively through healthcare professionals. It is not available for sale online or at traditional retail outlets.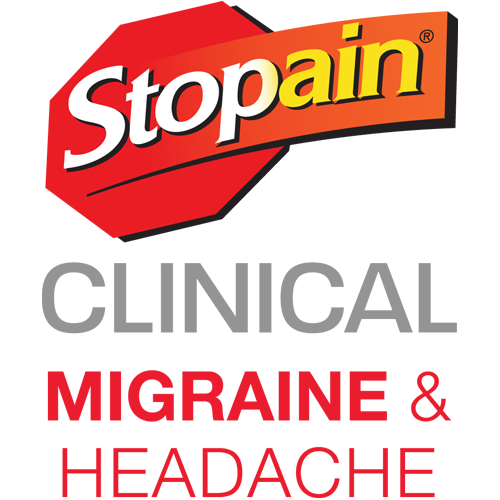 Immediate, safe and effective migraine and headache pain relief, exclusive to healthcare professionals.
Are you a healtchare professional interested in Stopain® Clinical Migraine & Headache for your clients or patients? Contact your preferred equipment supplier, or Find a Distributor here.
Featured Webinar:
Headaches, Headaches, Migraines and Headaches
Over 39 million Americans have migraines, more than the number who have diabetes and asthma combined. In this webinar, Dr. Cindy Howard covers different causes and treatments for headaches & migraines with a nutritional spin and topical gel.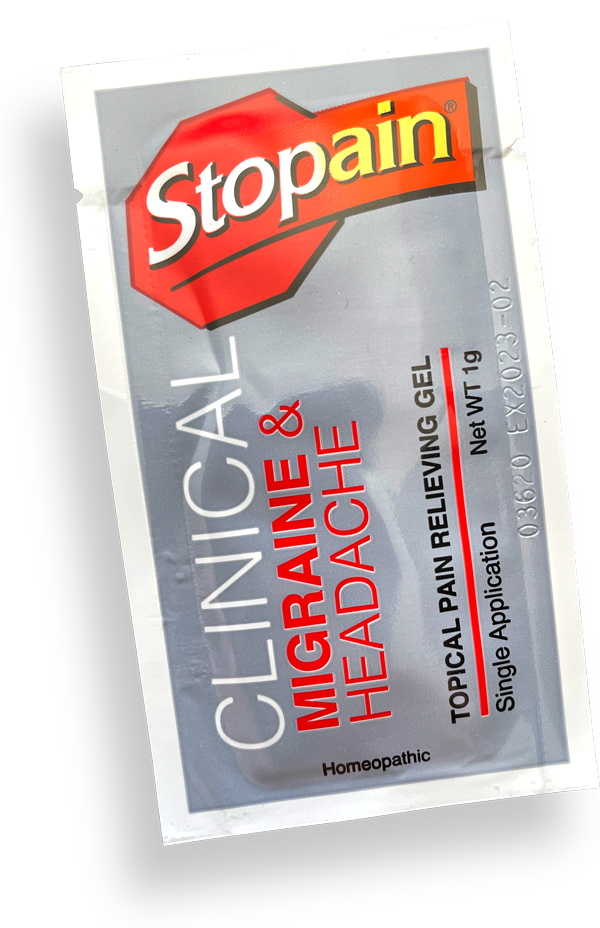 One Packet Equals One Application
Each carton of Stopain® Clinical Migraine & Headache contains 12 single-application 1g packets. One packet equals one application, and can be applied up to 4 times daily.
Topical Pain Relieving Gel
White Paper: Frontiers in Neurology
Results from Frontiers in Neurology White Paper concluded a significant improvement in headache intensity by 2 hours after gel application.
Study: Thomas Jefferson University
The Study at Thomas Jefferson Headache Center shows that 2 hours after the application 52% had significant improvement by at least one severity level and 32% had no pain progression.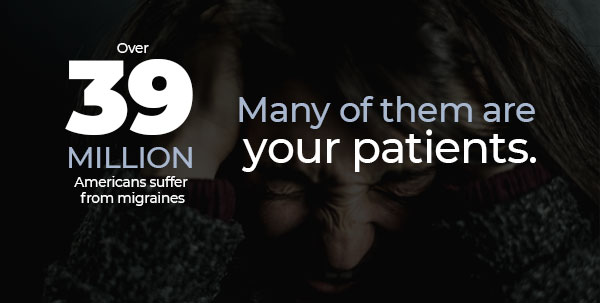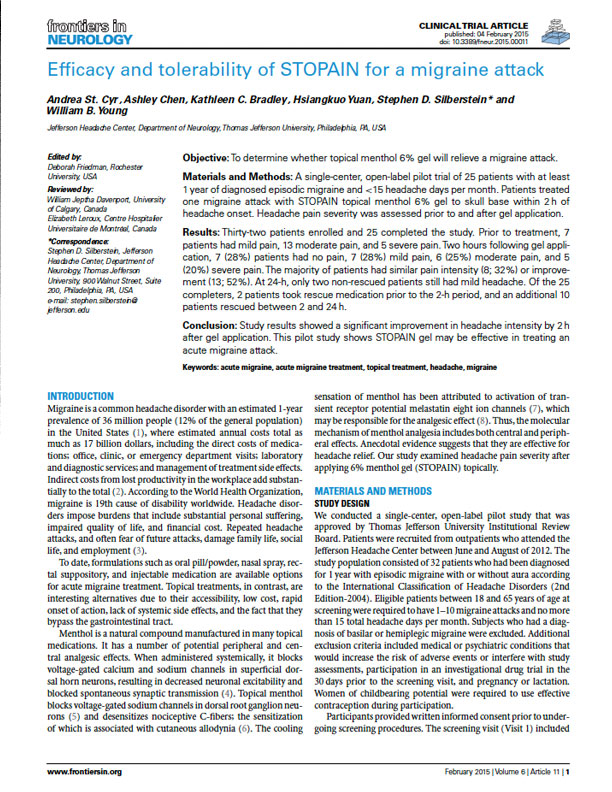 White Paper:
"Efficacy and tolerability of STOPAIN
®
for a migraine attack"
Download PDF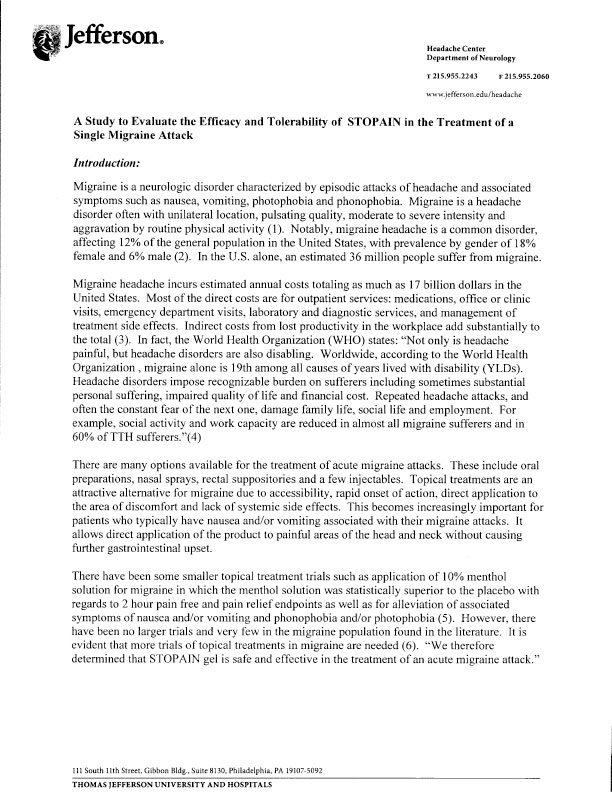 Study:
"A Study to Evaluate the Efficacy and Tolerability of STOPAIN
®
in the treatment of a Single Migraine Attack"
Download PDF
Dr. Cindy Howard - Inside Out Approach with Stopain® Clinical Migraine & Headache
Stopain® Clinical Migraine & Headache utilizes safe and effective ingredients which is important to me as a practitioner as I only use the highest quality products that have the best outcomes. This unique product provides me with an excellent tool for patients to have quick, easy migraine relief without concern of side effects from medications. Your practice and your patients will not want to be without this once you try it!
Cindy M. Howard
DC, DABCI, DACBN, FIAMA, FICC
Ingredients Matter!
The four active ingredients — Mentholum, Iris Versicolor, Sangiunaria Canadensis, and Belladonna work together to provide migraine sufferers with the only topical gel available for migraine and headache relief.
| | |
| --- | --- |
| ACTIVE INGREDIENTS | PURPOSE |
| Mentholum 1X HPUS 60.00% | Front Headache |
| Belladonna 3X HPUS 1.33% | Temple/Occupit Pain |
| Iris Versicolor 6X HPUS 1.33% | Sick Headache |
| Sanguinaria Canadensis 6X HPUS 1.33% | Back of Head Pain |
INACTIVE INGREDIENTS
Acrylic acid/vinyl ester copolymer, ethanol (USP), hydroxypropycellulose, pentylene glycol, triethanolamine, water (USP)
Adults and Children over 12 years:
Tear open packet
Dispense onto finger tips
Apply to back of neck and behind each ear until product is absorbed (use entire contents of packet)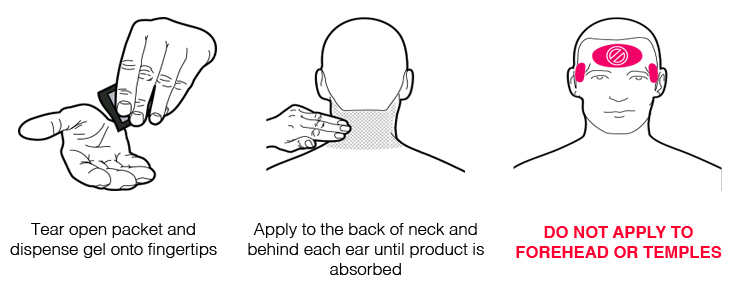 For best results, apply as soon as you feel discomfort. If after 30 minutes the symptoms persist, apply a second packet. A packet can be applied up to 4x daily.
CAUTIONS and WARNINGS:
Ask a doctor before use if:
You have never had migraines diagnosed by a healthcare professional
Do not apply to broken or irritated skin
Do not apply to forehead or temples
For external use only. The product should not be used topically on children younger than 2 years nor should it be applied on any mucus membranes of any age child or adult. Seek the advice of your heathcare professional before using this product topically on children 2-12 years of age
Avoid contact with eyes. If gel gets in eyes or on mucus membranes flush with cool water for 1-2 minutes.
Keep out of reach of children. If swallowed, get medical help or contact a Poison Control Center.
Stop use and consult a doctor if:
Condition worsens, or if symptoms persist for more than 7 days or clear up and occur again within a few days
Redness is present
Excessive irritation of the skin develops
If pregnant or breast-feeding, ask a health professional before use.
ADDITIONAL INFORMATION:
Store at room temperature.
Sign Up for Updates & Exclusive Offers
Stay informed of the latest product news, educational content, informative videos and webinars, and exclusive promotions.